Annual Expenses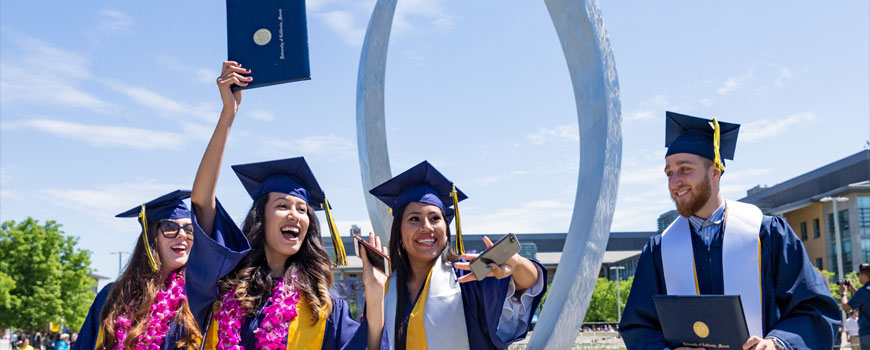 Graduate early or on-time by attending Summer Session!
Do the Math: Taking Summer Session Classes Can Save You Money!
The average cost to attend fall and spring semesters is approximately $27,000* per year — more if you live on campus and less if you live at home.  
Taking two classes in Summer Session costs approximately $3,540** in fees.
What does that mean to students? 
Taking two courses in Summer Session for two years costs about $7,080. Taking an extra year (fifth year) to graduate costs about $27,000.
Which would you rather pay: $7,080 for two summers or $27,000 for a fifth year?
Out-of-pocket cost of attendance varies from student to student. Please utilize the Financial Aid Calculator to help identify your individual out-of-pocket costs.
Annual Expense Chart
The following chart is based on the cost of attendance information from UC Merced's 2015-2016 General Catalog. Fees are for California resident undergraduate student enrollment.
The Student Assumption column demonstrates the cost of attendance for one student living on campus for his or her first academic year and living off-campus for the remainder of his or her time at UC Merced.
The 10-month annual expense row demonstrates cost for students attending the regular academic year.
Annual expenses are calculated for 12 months because many students have 12-month rental leases and pay rent even if they don't enroll in Summer Session.
On-campus housing is a bargain in the summer — check it out! 
9 month

| | On-Campus | Off-Campus | At Home |
| --- | --- | --- | --- |
| 10 Month Expense (including fees)* | $34,832 | $27,014 | $25,179 |
| Fees | $13,208 | $13,208 | $13,208 |
| 10 Month Expense (w/out fees) | $21,624 | $13,806 | $11,971 |
| 12 Month Expense (w/out fees) | $23,537 | $16,567 | $14,365 |
| Annual Expense (w/ 2 semesters NO Summer Session) | $34,832 | $29,775 | $27,573 |
| Summer Session (cost of attendance for 8 units and fees)** | $3,539 | $3,539 | $3,539 |
| Annual Expense (w/ 2 semesters and Summer Session)*** | $40,284 | $33,314 | $31,112 |